Live broadcasting is the BEST way to tell your story
We are fortunate to have so many high-quality broadcasting systems from which to choose.
They range from the software which runs from your desktop to browser-based systems.
We can broadcast to 1 destination or up to 30. There can be up to 10 people on screen, or we can just broadcast solo.
System prices range from free to a reasonable investment. All have extensive documentation online.
Please ask questions about the software systems. I have used most of them in the last five years.
With friends, I will be exploring all of them and providing reviews on this website. I welcome your thoughts too.
Check the comments on each system for additional information
Steven's top broadcasting software list. Go live from your desktop.
Listing the systems we can use when we go live from desktop
All the major systems for you to try.
From 2 to 10 people on screen with full production studios
Slideshow
Nov 14, 2020 - be.live -

1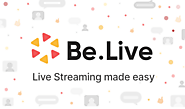 BeLive is the easiest livestreaming platform for Facebook & YouTube to grow your reach and boost your sales.
Try BeLive for yourself in a 14 day trial https://be.live?ref=stevenhealey
2327 | 52 |