Welcome to Live Video Training with your host Steven Healey
Be.Live's New Video Editor
LIve Q and A with Steven every Tuesday at 12 pm ET
Live Video Training Top Links and Highlights
Nov 26, 2020 - livevideotraining.net -

0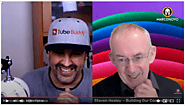 I enjoy live broadcasting, meeting and chatting with friends and connecting with viewers around the globe.There is nothing like it, for forging long-lasting friendships,
ShowCaster Countdown Clocks
A series of colourful FREE countdown clocks to play at the start of your broadcast,
You may use the videos unaltered in any of your broadcasts.
You can play directly in your Be.Live broadcast using the Youtube link
If you want to help promote the countdown clocks. please share the video.
The countdown clock is part of Showcaster, a broadcast manager system due for release early Q1 2021
18704 | 49 |