Why use a mobile phone gimbal
 Angelika and I tour National Trust properties at the weekend.
After we have walked around the site, we are visiting. I broadcast live on Facebook. Youtube and Twitter.
The live broadcast creates a recording that we can view on cold winter nights to remind us of sunny days walking around properties in the UK.
If I held the mobile phone in my hand, the result would be a very shaky video.
With a gimbal, the picture is stable, and the quality is such that I can upload it to Youtube for everyone to watch.
Mobile Phone Gimbal Stabilisers
My list of gimbals.
The list may contain affiliate links from which I may earn a small commission, this does not affect the price you pay.
Sep 17, 2021 - amazon.com -

1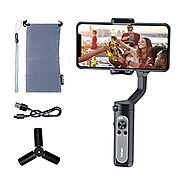 【Ultra-Light & Foldable Design】 iSteady X is the world's lightest 3-Axis smartphone gimbal. It is light as a mobile phone, weight is 259g (9.14 oz). Foldable design & palm-size make it portable, you can put in a small bag and convenient to carry. You can enjoy and record every beautiful life & happy hours in your travel withour burden.,【Explore Fun in App "Hohem Pro "】iSteady X makes recording video to be easily via App "Hohem Pro", [One-Click · Inception Mode]. Multiple templates for quick video making & sharing such as Inception, Lucky, Dynamic, Dolly Zoom, Smart Motion Timelapse, Panoramic Video, Fantastic Rotation, etc. Only one tap, it will automatically rorate or zoom, you can create master-like cinematic footages.,【Selfie Stick Mode · Non Stop Shooting】The Selfie Stick Mode is able to make iSteady X as a selfie stick, the specific design allows you to lock the motors with more possibilities to continue shooting and use the gimbal even it is power off.,【Low-angle Shooting Different Viewpoint】Low angle photography is a fun way to record video, Seeing the world from another viewpoint. Just hold iSteady X upside-down and the smartphone will auto rotate to a low angle shooting viewpoint along with your movement, to avoid any mutual interference between motors.,【High Payload & Universal】 iSteast X Compatible Phones: Payload: ≤280g (9.87oz); Thickness: ≤ 0.43"; Width: 2.16"-3.54". Enable to support popoluar mobile phones, such as: iPhone 11 Pro Max, Xs Max, Samsung S20 Ultra/S10/S9/S8, Huawei P40Pro, Xiaomi, Sony,LG,Google Pixel 4,One plus, ZTE and more Android Smartphones.
Sep 17, 2021 - amazon.com -

0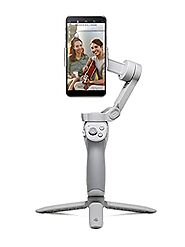 Feel the Pull - Instantly attach your smartphone to DJI OM 4 and enjoy perfect filming on the go. The magnetic phone clamp and ring holder enable you to effortlessly capture whenever inspiration strikes.,3-Axis Stabilization - Never post a shaky video again. Even with an external lens added, DJI OM 4's powerful 3-axis motor keeps your smartphone steady and your video smooth.,Reimagine What's Possible - Innovative features like DynamicZoom use advanced algorithms, so all you have to do is tap and walk. Try out the mind-boggling "Hitchcock effect," a creative zoom shot that delivers a Hollywood feel with minimal effort.,Go Hands-free - Gesture Control makes taking a selfie or a group photo with OM 4 simple. Snapping a pic or starting a video has never been this convenient.,ActiveTrack 3.0 - Following subjects is a walk in the park. This upgraded version recognizes adults, children, and pets with higher accuracy. You can even fine-tune your image composition with the joystick.,Switch Up the Shot - Press the M button twice to quickly switch between portrait and landscape mode for even more convenience.
Sep 17, 2021 - amazon.com -

0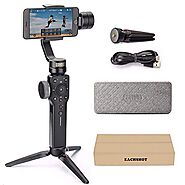 👍👍【Filmic Pro】The official APP for Smooth 4 is called ZY play. But Filmic Pro has best in class support for Smooth 4, you can use Filmic Pro as an alternative to ZY play.,👍👍【Control Panel】Integrated control panel design,Focus Pull & Zoom Capability,✅✅【MUST KNOW】Balance the gimbal before use: Slide the smartphoone in as close as possible to against the tilt axis motor. Loosen the Roll (Y) Axis Thumb Screw (which is on the back) to adjust the gravity center by sliding the horizontal arm.When phone stays in level in power OFF status, it is balanced.We recommend you VIEW the video tutorials, There are lots of tutorial videos on YOUTUBE that will help you master the gimbal.,👍👍【PhoneGo Mode】PhoneGo Mode for Instant Scene Transition,👍👍【Time Lapse & Object Tracking】Time Lapse Expert and Object Tracking available; Supports Two-way Charging with Longer Runtime
Country Walking with Steven
Videos broadcast live from the sites Angelika and I have visited.

I use the Hohem gimbal stabiliser,
total views 584 total views, views today 1 views today